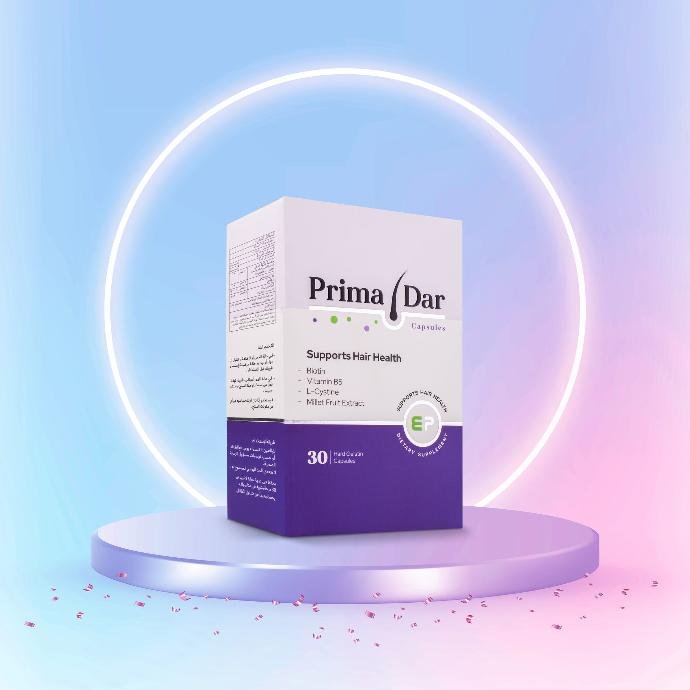 Discover the Science Behind Primadar
Miliacin®
Miliacin significantly improves cell proliferation in the hair bulb, augments collagen thickness in the hair follicle, and prevents hair shedding.
Biotin
Biotin supplements are very effective in treating hair loss and promoting hair growth.
L-cysteine
It plays an important role in keeping hair moisture and preventing hair dryness.
Vit B5
D-Calcium (Vit B5) provides essential nutrients for hair growth, strengthens hair from roots, and keeps hair moisture.er – find out what they want and give it to them.
Is Primadar 100% natural?
Primadar® capsules is the best natural sourced treatment for hair loss because it contains the most recent proved ingredient for hair loss; Miliacin® that is extracted from millet fruits, micronized, and combined with Polar Lipids to maximize the absorption and efficiency.
Primadar® also contains many very important minerals and vitamins from natural sources such as Biotin, L-Cysteine, Vit B5, magnesium, copper, zinc, and phosphorus.
 It does not contain chemicals like other hair care products that may harm the hair and health in the long run.
When will I get the desired result after using Primadar?​
Unlike other treatments, all most of our patients have seen clear improvement after the first month of consistent use of Primadar®, although the duration of treatment ranges from 3 to 6 months.
During this period, you will see a noticeable improvement in the appearance of the hair, the rate of hair loss decreases, with clear fast growth, and your hair becomes stronger and healthier.
Does Primadar cause side effects?​​
Primadar® is the most safe treatment, even for young patients, pregnant ad aged women. Primadar® has no any side effects reported.
What is exceptional about Primadar® is that it doesn't cause any growth of body hair, dryness of the hair, or increase body weight like all other products !! because it is not just a multivitamin but a unique treatment formula that is specifically targeting hair follicles giving localized action without any effect on the body.
What is the required daily dose of Primadar supplement?​​​
The daily prescribed dose of Primadar® capsules is two capsules per day after breakfast. This dose contains the exact daily amount required of Miliacin®, biotin, vitamin B5, and necessary ingredients for fast hair growth. The ingredients are all carefully added with the exact recommended concentration that is effective locally with no ay harm effect, even on a long term of use.
Does Primadar treat Androgenic Alopecia?​​​​
The main component of Primadar® capsules is Miliaciin® (millet extract), which has been proven effective in treating baldness and hair loss. It works on:
Strengthen hair follicles and resist hair loss.
Stimulating the production of keratin, the most important protein in hair.
Stimulating blood circulation of the scalp and stimulating hair growth.
Treats scalp inflammation that may cause hair loss.
But it is recommended to consult your dermatologist first in cases of androgenic alopecia, alopecia areata, or hormonal alopecia so your doctor will make sure to prescribe the right treatment after having the required tests for accurate diagnosis.
Is Primadar safe during pregnancy?​​​​​
Primadar® capsules one of the very few supplements that are safe for pregnant women. Because all its components are natural, such as millet extract, biotin, cysteine, and vitamin B5 and it doesn't cause any side effects for the pregnant woman or the fetus.
But, We always advise you to consult your doctor before starting to take nutritional supplements.
Does millet extract scientifically proven and has a strong effect on hair?
Scientists have rushed to conduct researches and studies to find out the benefits of Miliacin®, most notably the treatment of hair loss.
Recent studies proved the exceptional efficacy of Primadar® for hair loss treatment faster and stronger than usual supplements.
As well the micronized molecules with Polar Lipids proven to be 3 times more faster and effective than normal Millet Extracts. 
Millet extract Miliacin® is a rich source of proteins such as keratin, which is a component of hair, as well as vitamins and minerals that stimulate hair growth, treat scalp infections, and stimulate blood circulation to the scalp.
How can I get Primadar supplements?
You can order Primadar® :
online through our website.
Texting our whats app number +20120 2777799
Message our Facebook or Instagram.
Some times we offer a few stock for Amazon, noon, Jumia.
Egypt Pharmacies.
Tarshouby Pharmacies.
Elzoghby Pharmacies.
Is millet extract used globally?​
Millet extract has been used in global different brands and products in many countries in South and East Asia and Africa.
We are proud to be the first to introduce Primadar® to Egypt and the Middle East with innovative Micronized Miliacin® with Polar Lipids that makes us superior and better than all multinational brands.